Staff Report
As the temperature rises and the sun beats down on Oxford, Mississippi, there's no better way to cool off and satisfy your sweet tooth than with a scoop of ice cream or frozen yogurt. Oxford has a variety of shops, stands, and restaurants that serve up delicious frozen treats, each with its own unique flavors and personality. From Dairy Queen's classic soft-serve to the exotic flavors of YaYa's, there's something for everyone. Join us as we explore the best ice cream and frozen yogurt places in Oxford, MS.
YaYa's Frozen Yogurt: A Cool Oasis
You can't talk about ice cream and frozen yogurt in Oxford without mentioning YaYa's. Located on the Square, this self-serve frozen yogurt bar won Best of Oxford in 2022 for best frozen dessert and best place to grab dessert. Yaya's offers a wide variety of flavors and toppings that cater to any taste or dietary requirement. 
Yaya's is especially popular with students, and families who stop in on a trip to the Square.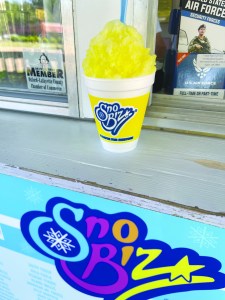 Snow Biz: A Sweet Snow Cone
If you're looking for something unique and refreshing, head to Snow Biz on North Lamar Boulevard. This tiny stand has been serving up snow cones for over 30 years, offering a dizzying array of flavors and combinations. Customers can choose from classic flavors like cherry, grape, and blue raspberry, or go for more exotic options like Tiger's Blood or Wedding Cake. And the best part? Each snow cone can be topped off with a dollop of soft-serve vanilla ice cream.
Snow Biz also serves up other refreshing snacks, including popcorn, lemonade and soda. Snow Biz is a classic Oxford summer staple.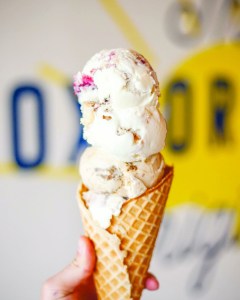 The Creamery: A Timeless Tradition
For anyone who wants to step back in time and experience a true traditional ice cream parlor, Oxford Creamery is the place. Located on North Lamar Boulevard, just north of the Square, The Creamery has been serving up homemade ice cream to Oxford residents and students for  years, using only the freshest, highest-quality ingredients.
"From farm to cone, we put quality above everything else and partner with local farmers and businesses to source the freshest and most delicious ingredients that this region has to offer," said owner Hudson McGee. "In addition to the creamiest signature and seasonal flavors around, we offer vegan and dairy-free options as well."