Recommendations from LYN ROBERTS
General Manager, Square Books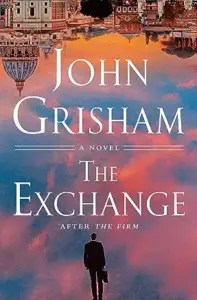 THE EXCHANGE by John Grisham
What became of Mitch and Abby McDeere after they exposed the crimes of Memphis law firm Bendini, Lambert & Locke and fled the country? The answer is in The Exchange, the riveting sequel to The Firm, the blockbuster thriller that launched the career of America's favorite storyteller. It is now fifteen years later, and Mitch and Abby are living in Manhattan, where Mitch is a partner at the largest law firm in the world. When a mentor in Rome asks him for a favor that will take him far from home, Mitch finds himself at the center of a sinister plot that has worldwide implications—and once again endangers his colleagues, friends, and family. Mitch has become a master at staying one step ahead of his adversaries, but this time there's nowhere to hide.
LET US DESCEND by Jesmyn Ward
From  Mississippian Jesmyn Ward—the two-time National Book Award winner, youngest winner of the Library of Congress Prize for Fiction, and MacArthur Fellow—comes a haunting masterpiece, sure to be an instant classic, about an enslaved girl in the years before the Civil War.
Let Us Descend is a reimagining of American slavery, as beautifully rendered as it is heart-wrenching. Searching, harrowing, replete with transcendent love, the novel is a journey from the rice fields of the Carolinas to the slave markets of New Orleans and into the fearsome heart of a Louisiana sugar plantation.
From one of the most singularly brilliant and beloved writers of her generation, this miracle of a novel inscribes Black American grief and joy into the very land—the rich but unforgiving forests, swamps, and rivers of the American South. Let Us Descend is Jesmyn Ward's most magnificent novel yet, a masterwork for the ages.
CLASSICAL SHINDIG by Michael Harold and Quinn Peeper
From seasonal celebrations to iconic book clubs to lavish parties for friends, family, and charities , Michael and Quinn have seen, done, and decorated it all.  Both are classical pianists and brilliant hosts. They offer tips and tricks that even an amateur can execute.
THE CARETAKER by Ron Rash
A breathtaking love story and a searing examination of the acts we seek to justify in the name of duty, family, honor, and love.
It's 1951 in Blowing Rock, North Carolina. Blackburn Gant, his life irrevocably altered by a childhood case of polio, seems condemned to spend his life among the dead as the sole caretaker of a hilltop cemetery. It suits his withdrawn personality, but when his best and only friend, the kind but impulsive Jacob Hampton, is conscripted to serve overseas, Blackburn is charged with caring for Jacob's wife, Naomi, as well.
NOT FOREVER BUT FOR NOW by Chuck Palahniuk
From the bestselling author of Fight Club comes a hilarious horror satire about a family of professional killers responsible for the most atrocious events in history and the young brothers that are destined to take over.
Meet Otto and Cecil. Two brothers growing up privileged in the Welsh countryside. They enjoy watching nature shows, playing with their pet pony, impersonating their Grandfather…and killing the help. Murder is the family business after all. Downton Abbey, this is not.
HEIRLOOM ROOMS: SOULFUL STORIES OF HOME by Erin Napier
From Erin Napier comes a collection of essays walking us through every room in her home, telling the story of a family's life, of the days that made their home the place she longs for when she's away.
We learn about when they became the new owners of Erin's dream house from childhood in downtown Laurel, Mississippi, and explore the beautiful homes of family, friends, and projects past in photographs.
With essays that evoke her Southern home, photos of the beautifully imperfect, lived-in spaces of her family and friends, and prompts for us to document our own homemade memories, Heirloom Rooms feels like walking through the front door of the collected and loved-in houses Erin and Ben are known for revitalizing in HGTV's #1 hit series, Home Town.
THE COMFORT OF CROWS: A BACKYARD YEAR by Margaret Renkl
From the beloved New York Times opinion writer and bestselling author of Late Migrations comes a luminous book that traces the passing of seasons, personal and natural.  In The Comfort of Crows, Margaret Renkl presents a literary devotional: fifty-two chapters that follow the creatures and plants in her backyard over the course of a year. As we move through the seasons–from a crow spied on New Year's Day, its resourcefulness and sense of community setting a theme for the year, to the lingering bluebirds of December, revisiting the nest box they used in spring–what develops is a portrait of joy and grief: joy in the ongoing pleasures of the natural world, and grief over winters that end too soon and songbirds that grow fewer and fewer.