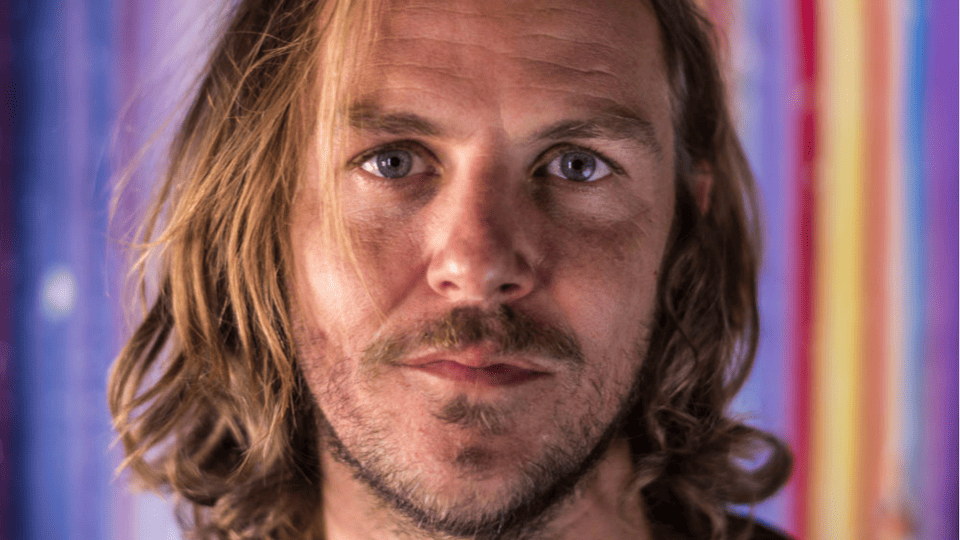 MARS LANDING
At 42, and with a brand-new album under his belt, Charlie Mars has plenty to show for a successful music career he's sustained for nearly 25 years. Mars opens up about music, mistakes and why Mississippi will always be home.
BY ALEX MCDANIEL
PHOTOGRAPHY BY PAUL GANDY AND LIZZIE MCINTOSH
above: Charlie Mars at Balloon Fest in 1999 below: charlie mars band preview from 1998 (the clarion-ledger)
CHARLIE MARS WAS DRUNK the night he took the stage at Double Decker in April 1998, slurring his words and cursing in front of the crowd before Robyn Tannehill, then the city's tourism director, dragged him offstage by his belt loop.
"Robyn basically kept me from getting arrested," Mars says of the woman who's now Oxford's mayor-elect. Tannehill's grace is one of the few things Mars vividly remembers about that night other than an irate Pat Patterson, then a tourism board member years before his mayoral run.
Years of performing for college-town crowds across the Southeast led Mars to assume Double Decker, at the time a relatively new addition to Oxford, was like any other music festival where booze-soaked performances aren't only tolerated but encouraged. Not exactly the best conditions for a family-friendly event, however, which led to the decision to ban Mars from performing publicly in Oxford—a rule that apparently didn't stick.
"Everybody in town threw a fit because I was such an idiot," Mars says. "Obviously I cared because I had acted like a jerk, but I was also 23 and hammered, and it's rock-and-roll. Rock-and-roll is all about the cock of the walk."
It didn't take long for Mars to come to terms with the fact that his rock-and-roll lifestyle, fueled by just about every vice imaginable, nearly derailed his career. Fresh out of rehab and seeking a soft place to land that would be free of temptation, Mars, whose brother was then an Ole Miss student, decided to move to Oxford in 2000. The plan was to stay for a year.  Almost two decades later—still living in his enviable second-floor apartment on the Square—Mars is firmly embedded in Oxford's culture of eccentric artistry.
At 42, having sustained a music career for nearly 25 years with no signs of slowing down, the Charlie Mars Oxford temporarily shunned once upon a time is a far cry from the man and musician he is today, someone who's all-too-aware of his limits because he spent so much time pushing them.
MOST MORNINGS, MARS FILLS A LARGE METAL TUB on his back porch with ice water and submerges himself in the frigid bath for five minutes at a time—oscillating between that and a warm shower. Based on a controlled-breathing method popularized by Wim Hof, who's known for his incredible ability to withstand bitterly cold temperatures for hours at a time, the ritual has become part of Mars' daily routine.
The process is an exhausting one, burning up to 800-1000 calories in a single session. A text from Charlie minutes before our interview time says he's running behind for that very reason, and so I head to Saint Leo where I find him sitting at the bar finishing off a steak sandwich with the voracity of a man who hasn't eaten in days.
Though the verdict isn't out on the physical benefits of cold-water therapy and whether it should be considered safe for general practice, Mars is clearly gaining benefit from it despite the admission that it's a pretty miserable thing to do on a daily basis, which is kind of the point.
"The pursuit of comfort shouldn't be the end-all-be-all," Mars says. "A lot of lessons live inside pain."
The short walk from Saint Leo to Mars' apartment is peppered with locals greeting Mars, who pops in one of Ajax's open windows to say hello to a table of friends along the way. 
We stop at Square Books for coffee, probably Mars' favorite place in Oxford. Mars has always been a reader, carrying his love for books to Southern Methodist University in Dallas where he majored in English. One of the reasons Oxford fits him so well, he says, is the town's slant toward intellectual curiosity, particularly when it comes to literature.
"The town's life force is Square Books," he says. "If it wasn't for that bookstore, I think the town would really lack that beating heart."
Fifty feet from that bookstore is Mars' apartment, which aside from minor cosmetic changes here and there, hasn't changed all that much since he moved in 17 years ago. A row of guitar cases is lined up by the door. The walls are covered in art and photographic prints. Almost every detail in the living room is tied to a story or memory or particular person, like the throw blanket he bought in Marrakesh, Morocco—his favorite place he's ever traveled, though he's only been once. Or the menu he stole from a New York restaurant owned by Robert DeNiro because it was hand-drawn by DeNiro himself. The large colorful canvas hanging above his fireplace was painted by his brother, Chad.
The concept of home is something he talks about a lot, largely due to his strong ties to Mississippi and hometown of Laurel and the fact that he's spent so much of the last 25 years traveling or living in different cities. After graduating from SMU, he lived in Georgia for a handful of years while touring and recording with the Charlie Mars Band. And though he's considered Oxford his home base since moving to town, he's spent extended periods of time away. 
But he's a Mississippian first and foremost and makes that clear from the start. His family on both sides has been rooted in the state since the 1800s. "I consider myself a part of a long line of people who lived their lives here, and I live here out of honor to them and my own family," he says. "It's an unrooted life being a musician. You travel constantly, and I don't have a strong sense of identity as far as that goes. It's nice because no matter what, you can look at me and be like, 'What are you?' and I can say, 'I'm someone who comes from a line of people that have been here for 150 years, and regardless of whatever anyone has to say, I belong here.
"That gives you a legitimate claim to a place. What I have to say matters because I belong here."

Young Charles Mars of Philadelphia had won a Mississippi state tennis championship; he had learned to fly planes in the Army Air Corps; he had served his country in World War II; he had married; he had sired two children; he had become a successful businessman; he had taken up the game of golf and learned to play it well—all that at the age of 28. 
But Charles Mars—Charlie to his friends—always looked for a new adventure, another huge helping from the smorgasbord of life.
ONE OF MARS' FIRST MEMORIES is of his grandfather, Charles­—known as Charlie among close friends—teaching him how to play his first song on the piano.  He died in February and left behind one hell of a legacy of fearless living. After a spur-of-the-moment road trip to watch his favorite golfer compete in The Masters golf championship in 1954, the elder Mars returned every year, even flying his own plane above thunderstorms to make the 50th consecutive trip in 2004. As columnist Rick Cleveland puts it: "Norman Charles 'Charlie' Mars lived 92 years and two days and did not miss a minute."
Childhood trips to his grandfather's condo in Destin, Florida, are among some of Mars' happiest memories with his family. "My dad had a little Cessna airplane, so we would fly down there from Laurel," he says. "We had a little Oldsmobile at the airport and would leave the key under the mat at the airport. It just stayed there all year."
"That was my first real exposure to that kind of lifestyle, just carefree and no responsibilities."
About five years ago, Mars started returning to the Florida coast year after year for the annual 30A Songwriters Festival. The memories of his childhood were strong, and the visits became more frequent as he started to make friends. It was a nice change of pace for Mars and an escape from constant touring around the country and doing songwriting sessions in Nashville.
In a twist of fate, Jimmy Buffett's niece saw Mars perform at the songwriting festival and asked him to send her a song she could send it to her uncle. Not long after, Buffett reached out to Mars about an opportunity to audition for a show he was producing on Broadway.
"I didn't get the part," he says. "I just don't know much about Broadway acting. I don't know anything about Broadway acting. It was a letdown."Still retreating to Florida when he wasn't touring or songwriting in Nashville, Mars wrote hundreds of very personal songs over that period of his life that weren't getting recorded.
"So I just decided to make a record with those songs about my time down there," he says.
"Beach Town" Live At Bluebird Cafe (Solar Cabin)
Beach Town is the ninth album in Mars' career arsenal and offers yet another chapter of his story both in the music and its production. Few things come between Mars and a project once he sets his mind to it. He sold his car in college to produce the Charlie Mars Band's 1996 debut, Broken Arrow. After returning from a post-rehab sabbatical in Sweden, he won $26,000 at two Louisiana casinos, which he used to finance the self-titled 2004 album that helped revive his career, widen his audience and get him signed to a major record label. He's also used GoFundMe as a way to raise money for recording while interacting and giving back to his fans, many of whom are among Mars' most loyal followers on social media.
Beach Town is a gift to them, in many ways. He wants his fans to have the album first, in physical form, selling them at shows or through his website, and doesn't plan to release it on iTunes or streaming services like Spotify for a while.
"I want to be able to service my fans first In a very organic way," he says. "Everything is everything all the time, and I want to have something that's not."
Mars knows the limited release means there might be not as many people at his shows until he releases the album to the mass market. And he's OK with that.
"I just want it to be that people who've been with me this whole time," he says. "Simply on principle. There's no other reason for it."
MARS IS IN A GOOD PLACE; that much is clear. He's not shy about discussing the demons of his past and not willing to let them define him considering how much has happened in his life as a result of beating them.
He stays realistic, however, shaking his head when I make a remark about how his lifestyle is enviably balanced compared to most people.
"What you should actually say is, 'Here's someone whose nature leans toward self-destruction and imbalance, and therefore I have to be incredibly, incredibly vigilant to steer clear of things of that nature. And I am in a good place right now. But there's no guarantee that will last."
A smirk breaks his stoic expression with the wide-eyed excitement of a child. "But yeah, things are pretty good right now."
When it comes to vices, he doesn't have many. He's always been a gambler, but with the kind of luck that lets you enter a Louisiana casino with $500 and leave with $26,000, who wouldn't be?
"My vice is probably Insomnia Cookies," he says. "I eat those oatmeal-raisin motherf*ckers with milk, like four nights a week."
As we wrap up, the conversation returns to Oxford—how it's changed, how it will continue to change, and how for a place that so openly embraces eccentricity and creativity, parts of it seem more like a grand illusion, the quintessential small town where everything's safe and peaceful and perfect.
It's no accident that all Mars has to do is look out his window at the idyllic, bustling town square to know he's at the epicenter of Oxford's charm, illusion or not.
"I want everything to be OK," he says. "I want everything to be simple and small-town, but it's like anything you know; you can't be too fooled by it. Everybody's got problems and real life issues. And just because we've got a pretty clock tower doesn't mean that's not happening."
"Oxford is a storied place. You have layer after layer, and that's always interesting when a place has depth, and there's something to it besides a new apartment building or something."
As for the future, there's plenty of life Mars wants to experience. He hopes to have a family of his own one day, joking he'd "probably be terrible at it" and wants to keep traveling and exploring new places, taking his music and his late grandfather's unwavering thirst for adventure right along with him.
"My life is far from cookie cutter. I've met a lot of people, and I've done a lot of things, and I've had a lot of experiences, but the fundamentals you come back to are all that matters," he says. "The things that people told you when you were young that you didn't listen to. Being true. Being in nature. Being a good friend. Communicating honestly. Doing good work.
"I don't care about childish things like fame or money, the things I thought would make everything OK when I was 25. All I want is to continue to create good things."