By, Kelby Zendejas
Photos by, Kelby Zendejas
Since Oxford's local fare boasts James Beard nominated chefs and restaurants, our reporter sought out Oxford's best breakfast spots and the hearty dishes they served. Considering breakfast is named the "most important meal of the day," these local restaurants and their impeccable offerings will not disappoint anyone trying to get the best start to their day. 
FIRST WATCH, 104 S Lamar Ct
On the Plate: Classic French toast with "million dollar bacon" and a tall glass of chocolate milk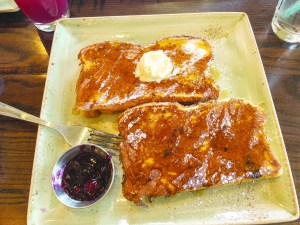 The first stop on the map was Best of Oxford's Best Brunch award winner, First Watch. Although a local chain, First Watch serves everyone from hometown locals to football guests with its rustic, healthier style of breakfast. I decided to stick with the classic French toast with a side of the restaurant's favorite, "million-dollar bacon." The bacon is a dish every First Watch-goer should try:  four pieces of peppered bacon with a drizzle of syrup. Two thick slices of brioche bread, topped with powdered sugar, butter, and syrup paired with bites of the "million dollar bacon" made for the perfect combination. As for a drink, I'm a sucker for a tall glass of chocolate milk, so of course, First Watch did not disappoint. The menu also hosts healthier options such as steel-cut oatmeal and avocado toast. 
BIG BAD BREAKFAST, 719 North Lamar Blvd
On the Plate: The hearty fried chicken and waffle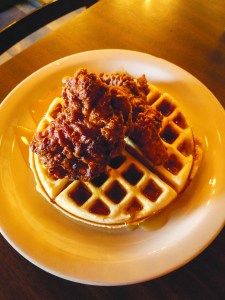 Big Bad Breakfast gets its glory from its southern charm mixed with fun flavors. I couldn't resist a perfect moment for chicken and waffles. A perfectly crisp waffle topped with fried chicken is a southern staple that Big Bad always gets right. While there are other classic options to explore on the menu, the crispiness of the chicken wins every time for me. Flaky goodness paired with a buttered up waffle will stay on Big Bad's "must eat" menu item list. 
BEACON, 1200 North Lamar Blvd
On the Plate: One pancake, two sausages, a fried honey bun, cheese grits, scrambled eggs, one biscuit and a cup of coffee
I ventured to this breakfast place by my lonesome, and I'm so glad I did. Immediately, the Beacon felt like home. Judy served me with a smile and suggested that a fried honey bun was the way to go. A fried honey bun? Anything fried sits well with a southerner. Sitting on my multiple plates was nothing but southern breakfast goodness. If you want a breakfast that fills you to the brim, Beacon is the place. The sausage was my favorite part as it was well-salted and just the right amount of thickness. Paired with bites of the fluffiest pancake, this combo was unparalleled. A biscuit – that I didn't know I ordered – waited patiently to be eaten. Add the scrambled eggs and a piece of that sausage, and the best biscuit was made. The Beacon has stood for 59 years, rightfully so. If you haven't been here, please go. You will thank me later. 
COMMON GROUND, 81 Ed Perry Blvd, Suite 101
On the Plate: Vanilla latte and an avocado, egg, and cheese sandwich on a brioche bun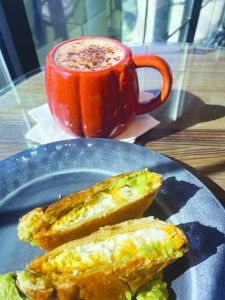 For the efficient breakfast goer, Common Ground on Sisk Avenue is the perfect pit stop. With a window seat, I was set for the morning. I had to grab a vanilla latte with cinnamon on top and an avocado, egg, and cheese sandwich. Served on a toasted brioche bun, the creamy avocado spread aligned perfectly with the saltiness of the egg and cheese. Common Ground may be more known for its coffee, but any of the quick breakfast sandwiches are a must-try.
BOTTLETREE BAKERY, 923 Van Buren Avenue
On the Plate: A honey cream cheese danish, strawberry humble pie, and iced vanilla latte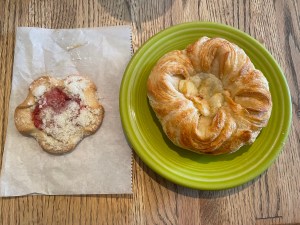 Tucked away on the Square is the quaint Bottletree Bakery. I walked in and wanted every single thing. Waiting inside were endless pastries, including danishes, biscuits, scones and even a pumpkin spiced twist. I couldn't decide what to try first. The conclusion consisted of a honey cream cheese danish and a strawberry humble pie. As a tough critic of danishes, the honey cream cheese danish was delectable. It contained just the right amount of flakiness one desires when eating fresh pastries. Although I couldn't see the honey, it felt like honey drizzled out of  every bite. The strawberry humble pie was just as tart as it was sweet. Crumbs of sweetness fell after every single bite.